A Place I Haven't Been Yet - A Poem By Donovan Baldwin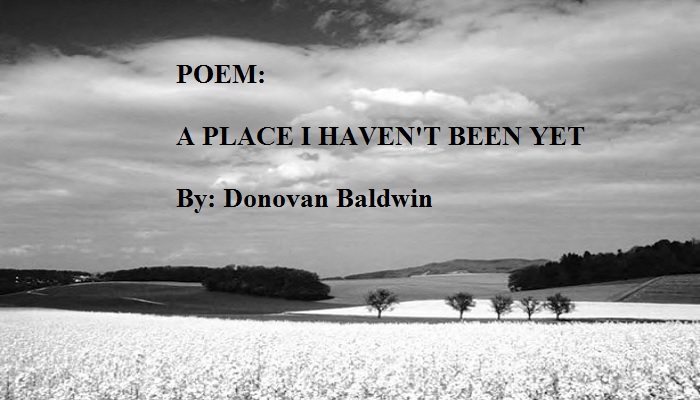 I have always had a problem. I have never been happy where I am and am always anxious to go. Just put it down to an "itchy foot", I guess. When I was a boy, the Pensacola Public Library was my second home. I should say my third home as I spent most of my days in the woods beside, and on the beaches of Pensacola Bay. I would look across the water, think about all that I had read and heard about, and wonder when I would get to see it! I could lie in bed at night and hear the fog horn blowing. During the day, the train came by my house. It only went from Pensacola to the Naval Air Station and back every day, but IT WAS A TRAIN!

Even after 21 years in the U.S. Army and Texas Army National Guard, six years in Europe, and eight years as a long-haul truck driver and truck driving instructor, I still get the urge to be "movin' on" within days of getting to a new place.
A Place I Haven't Been Yet
I looked up at stars, I looked cross the sea,
Yearning for the distant and strange.

I just couldn't feel "at home" at home,
But dreamed of the wide open range.

At last I left and crossed the sea,
Tho' I never got to the stars.

I rode the range on eighteen wheels,
Haunted diners and dives and bars.

I'm just not cut from a normal bolt,
Nor sewn in the common style.

I'm happiest when I'm far from home,
And just come back for a while.

It's not the people, the places, or things,
That cause me to move along.

I cannot explain how the stars and the sea,
Sing to me with a Siren's song.

I've got to go tho' I just got here,
I will miss you as soon as I go.

I'm happiest when I'm outward bound,
In a way others never will know.

Most need the hearth and home and heart,
In a place all bounded and set.

I just need a map and a road that leads,
To a place I haven't been yet.


Copyright 7/14/2012 by Donovan Baldwin



SPONSOR
Yoga

Donovan Baldwin
Hurst, TX 76053